Body Shape
One of the main obstacles that women face is finding clothes that look good on their bodies. It is not that there is a type better than the others; it is that there are certain types of clothes that are tailored for specific body types. But, before we get into this, we need to familiarize ourselves with the different body types and know which one is ours.
First on the list is the apple figure. This means that the waist is wider than the hips. It also means having slimmer legs and even larger bust. The second type is the banana or the straight figure. If your figure is banana-shaped, then your shoulders, chest, waist, and hips are all around the same size. Then, we have the hourglass shape. Hourglass-shaped women have their chests and hips are wider than their waists. The last type is the pear shape, which means that your hips are wider than your waist and chest.
The Best Cut
Now that you have an idea about what your body shape is, it is time to decide which cut is cut out for you. If you have an apple figure, then lucky for you, dark colors, prints, and patterns suit your shape! You will also be happy to know that you can go for a one piece swimwear with low-cut necklines. The best thing for an hourglass figure is bikinis because they will show how tiny your waist is. If you have a banana figure, then you might want to go for bold colors, ruffles, frills, etc.
And, finally, if you have a pear-shaped figure, it is best to go with strapless swimsuits to show off your narrow shoulders.
Bust Size
The final thing that you need to take into account is your bust size. Your size plays a significant role here. For instance, if you have a relatively small bust size, then rejoice because you can wear swimsuits without cups, strapless tops, or tops with a lot of ruffles. However, if you have a large bust, then you might want to show off these beauties. Don't be afraid to wear bold colors, patterns, low-cut necklines, or wear a bikini.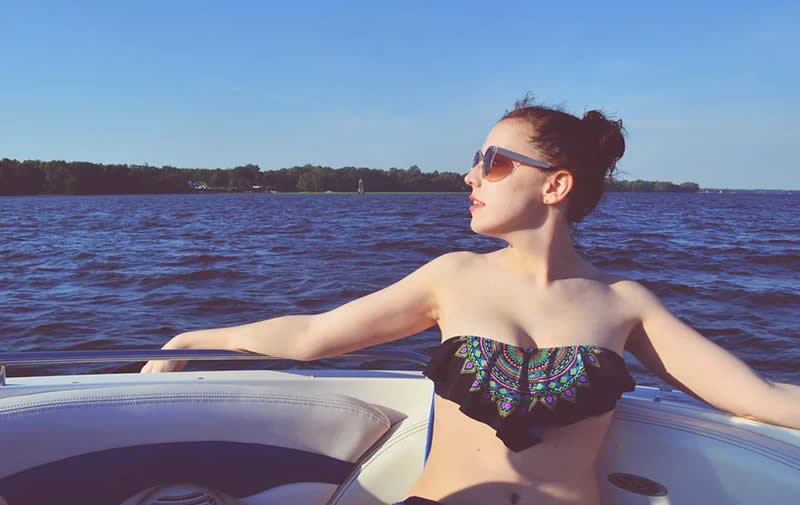 With that being said, it is important to know that everybody type is beautiful and perfect in its unique way. There isn't any swimsuit that will look bad on your body, but there are some out there that can highlight the best features of it. Now that you have digested all of this, it is time to know which body type is yours, so you can pick the best swimwear that will make you look your absolute best.